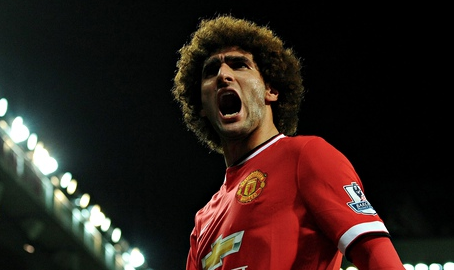 Evening.
I was planning on writing a preview for Southampton until I realised we're not playing until Monday night. Which is good, because it means Monday Night Football and Gary Neville will be focused on us, and if that's not worth watching I don't know what is. Instead I thought I'd bash out some thoughts about the midfield.
So as it turns out, Ander Herrera is one of those players who can, in fact, do it in a cold, rainy night in Stoke. OK, so it was at home. And it wasn't raining. What I'm trying to say is: our midfield is looking much, much better and he's had a big part to play.
Herrera has played extremely well of late, after missing four straight due to a combination of rib-knack and being elbowed out of the starting lineup by Fellaini. Then on Tuesday night the two played together and combined for the first goal, the Spaniard's inch-perfect weak-foot cross being finding the Belgian's massive head.
I've watched that goal over and over again on YouTube (that's the sort of thing I do) and I love it. I love Herrera's reaction when he sees it go in, I love the fact that the Unidentified Stoke Defender was standing completely still and so didn't have a prayer of stopping the galloping Fellaini truck, and really, really love the photo I've used at the top.
I'd like to keep seeing the Herrera and Fellaini combination but as I mentioned in a previous post, it's a little pointless to demand that United set up in a particular formation, or even a lineup. United's research week to week on the opposition is incredibly meticulous, to the extent that we can expect things to change pretty much every week. Back in September for example, van Gaal had this to say when asked about the preparation.
"Yes, he presents it," referring to Giggs's role in delivering the research to the players. "My analyst Marcel Bout goes to the [opposition team's] games and gives his analysis and cuttings to Giggs who makes a presentation. I check it, and then Giggs presents it to the players. The next day, we simulate our opponents in the training sessions.
"I always prepare for matches very thoroughly. I have four books about the games Leicester have played already, including the one they lost against a smaller club [Shrewsbury in the Capital One Cup]. I know everything about the team, about their individual players, about the subs who can come into the game, even the atmosphere in the stadium and how they kick the first kick of the match. Everything." (OK, so we lost against Leicester, but then I doubt that there was a chapter in the book entitled "What To Do If The Players Pull An Arsenal And Lose All Sense Of Composure And Structure And Play Like Utter Chancers In The Last Twenty Minutes").
As well as Van Gaal liking to change things, there's also the other thing, which is that now we suddenly have a lot of competition for midfield places, even more so now that Val Gaal has tinkered with playing Robin van Persie at the behind the strikers in a 4-2-2-2. So now, vying for a midfield spot, we have Di Maria, Rooney, Blind, Herrera, Mata, Fellaini, Carrick, Januzaj (who wants to play behind the strikers) and Fletcher. Anderson is not included, but that's something he'll be used to.
Not to mention the fact that Van Gaal wants MORE MORE MORE according to yesterday's papers, including Kevin Strootman, in case you hadn't heard that on before. So at least ten players will be looking for 4-5 spots depending on the formation. Van Gaal's pragmatic approach means that everyone in that list could have a role to play. Darren Fletcher's contract is up at the end of the season and could be vulnerable, though the fact that the manager named him club vice-captain at the start of the season indicates he might want to keep him for leadership and experience. Carrick's contract is also up at the end of the year. He's been absolutely superb since he came back from injury and he really shouldn't be going anywhere.
Something that's interesting is that Januzaj started and played well against Chelsea and was only substituted against City after Smalling was sent off. Since then he's only played 63 minutes of football. As Fellaini and Herrera have improved and Mata has gradually began to settle, he has suddenly lost out. It will be interesting to see how much football he gets in the next few weeks as we find out just how much van Gaal trusts him.
That trio, though, of Mata, Fellaini and Herrera seem to be developing a good bond, with the creativity of the former being complimented by the scurrying hard work of Herrera and the brute force of Fellaini. With Carrick the final addition to the group it should tick along like clockwork at least until Di Maria is fit again.
That'll do for now. There'll be a proper preview for Southampton either tomorrow or Monday morning. With Chelsea losing today, a victory will put us into third, two points above them, five below City and eight below Chelsea. Never say never… we were twelve points behind Newcastle in January 1996 and we won the title. Ah, optimism, my old friend…