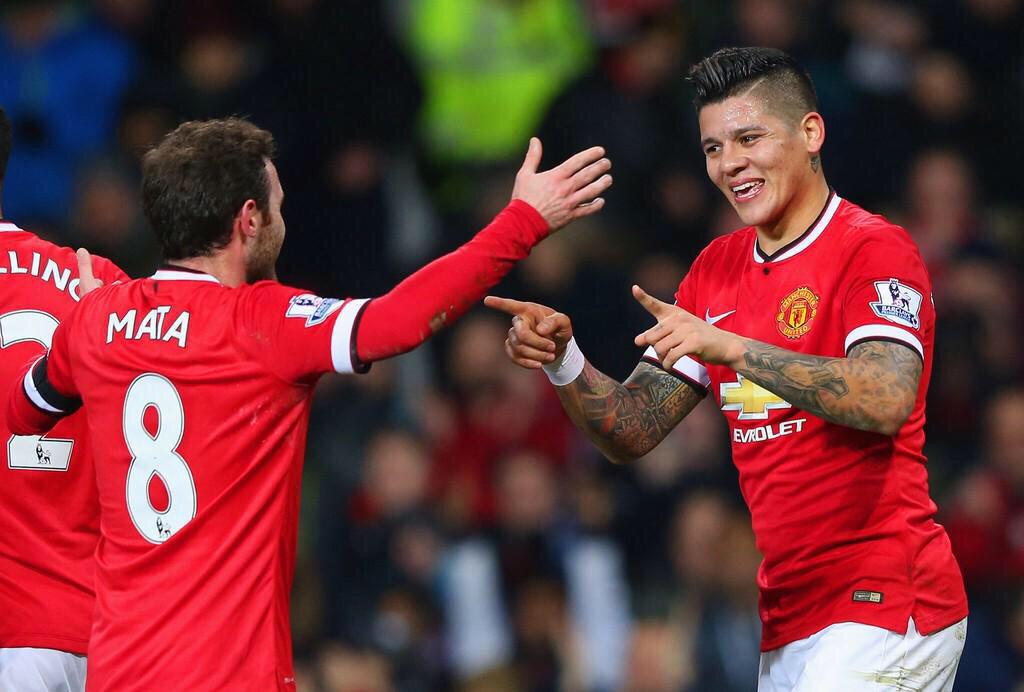 Well, it wasn't perfect by any means, but we're in the 5th round with a genuine shot at winning this thing. No disrespect to Cambridge, who have done well to survive being patronised to within an inch of their lives for the last two weeks, but I would have preferred 4 or 5 considering the gap in quality and league position.
Overall though it was a pretty satisfactory evening. Rojo got his first goal, Robin van Persie looked as if he was actually enjoying himself and van Gaal played four at the back (Hallelujah!). The front then, though, was a bit of a van Gaal oddity with Rooney, Mata and Fellaini playing behind van Persie up front. The intention was to stretch Cambridge all over the pitch by getting Rooney to drift out wide and Fellaini often used as a makeshift target man. Of the latter, van Gaal said after the game:
"With Fellaini, we have always also an attacking point through the air. Cambridge have very tall players and we could score also in the air and not only along the floor. That was our game plan and he [Fellaini] confirmed that [his aerial prowess] again."
I'm not saying that's just a fancy way of saying 'we lumped it up to the big man', but that seems a fancy way of saying 'we lumped it up to the big man'. Still, it worked, and I've complained before about Fellaini not being used in the correct way, so I can't have it both ways.
My heart sank in that first minute when Daley Blind did his best impression of a man drunkenly booting a can of Coke in the street. I was absolutely convinced that Tom Elliot was going to score when Blind put him through, clearly as was Blind when he froze to the spot as Elliot bore down on goal. Elliot muffed it though, and saved ourselves a nightmare of a first half.
Herrera found himself on the bench yet again. The Spaniard now hasn't started a game for the club in two months and it seems that van Gaal just can't find a place for him. The little man has to be in court shortly for his match-fixing hearing, but I don't see van Gaal leaving him out for that reason. The manager bridled when asked about Herrera last week:
"You are always asking about the player who is not playing," he said. "Three weeks ago it was (Radamel) Falcao. Next week it will be about another player who is not playing. It is unbelievable. I can only line up 11 players. It is not so interesting that you talk about the pounds (fee paid). Paddy McNair is also important and he cost nothing, so I do not agree. I am not discussing this (the omission of Herrera) with you. I can only line up 11 players."
The consensus of late seems to be that van Gaal doesn't see Herrera as being sufficiently disciplined to operate in his system, preferring the more rigid approach of players like Carrick or Fellaini. Herrera is more of a roamer, who still doesn't seem to have entirely forgiven for his poor display against West Brom in November. Herrera, for his part, has remained admirably stoic about it all, saying this week:
"When the manager wants me to help the team I am going to be ready, of course. I am at Manchester United and we have a very good squad with very good players and it is not easy but of course I am going to work hard. I'm going to be ready always for the team because everyone wants to play the next season in the Champions League and of course I want to play."
People probably need to relax. The team's level is steadily improving and van Gaal will give Herrera a shot if he thinks he can play how he wants him to. The manager has scant regard for a player's transfer value which is absolutely the right policy, and there are no rumblings of discontent from the player. We really should trust the manager on this one.
Cambridge was comfortable run out for us, but there was a still a noticeable jitteriness in possession at the start. I'm not saying we were a bag of nerves but until the first goal the players just looked a little unsure of themselves.
The first goal, though, displayed the kind of forcing-defenders-to-sprint-backwards movement that we've barely seen so far under van Gaal. Mata was at the centre of everything. It was him that laid the ball off to Di Maria on the left, sprinted into the box and met Fellaini's knockdown to tap in from close range. It wasn't gorgeous, but it was fast, and that will do at this point.
The second was a good header from Rojo but owed much to Cambridge making the mistake of ignoring Fellaini when he drifted away from goal, which had them panicking even after the Belgian's shot was blocked. Van Persie picked up the pieces and chipped it onto the head of Rojo who couldn't really miss.
Rojo seems to have settled slightly after his first group of games for United often featured him running around like a maniac (though to be fair it probably more often than not an attempt to clean up after Smalling and Evans), the worst occasion being when he dislocated his shoulder against City charging out of defence to make a Sunday league slide tackle. United's stingy defensive numbers of late owe much to looking far more comfortable.
Pretty much absolutely nothing happened in the second half, something that was also the case against Leicester and that van Gaal complained about at the time. But it was great to get Wilson on the scoresheet and we now have three main strikers who have all scored in the past week, giving van Gaal one of those good selection dilemmas. What we have now is depth, both in players and players with confidence, and that should stand us in good stead of the next few weeks.
Back again tomorrow morning. I promise I won't ever do any more Blind puns.
Track of the Day: Burial – Come Down To Us (2013) (the first half)