West Ham 1-1 Manchester United
Kayoute 48, Blind 90′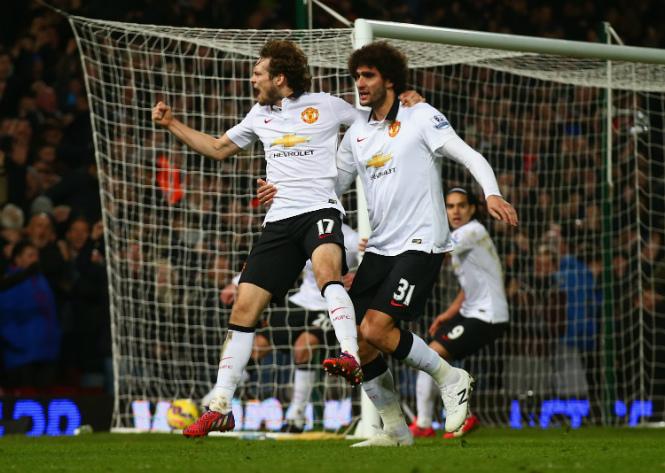 In the end, West Ham just could not hang on. For the vast majority of this game the home side had harried, frustrated and infuriated United but were undone by United's late tactic of long balls knocked towards substitute Marouane Fellaini, their refusal to give up the ghost in the final seconds and ultimately a fine volley from Daley Blind.
Perhaps Blind, who otherwise produced a poor display, had drawn inspiration from James Milner. The Dutchman's stoppage time equaliser was, much like Milner's free-kick at the death at the Etihad, a barely deserved reprieve. Seconds earlier Wayne Rooney had had his own opportunity to imitate Milner, but his free kick on the edge of the box bounced off West Ham's wall and the tie looked lost for United. But after Antonio Valencia gathered the rebound, Marcos Rojo's chipped cross was headed by Carl Jenkinson onto the left boot of Blind whose well-hit volley rolled into the bottom corner.
It's an old adage that the best teams take home points even when the performance is poor and United deserve credit for fighting to the death. But it was more than unexpected. With thirteen minutes to go in this game Ryan Giggs sank into his seat and Louis van Gaal, face like thunder, pointedly wrote in his notebook. Falcao, who again had another forgettable afternoon, had just knocked his shot wide from less that eight yards. It was a fitting image that exemplified another laboured, stodgy performance from United which, despite the rescued point, raises legitimate questions of their chances of Champions League qualification.
United never looked like serious contenders to win this game. This was a performance lacking once again in pace but also in aerial prowess. West Ham deserved their victory, playing with more heart, structure and confidence than United. What should worry van Gaal is that it was an afternoon when yet again his best player was wearing green. With the hour mark gone, United's substitutes remained firmly on the bench and it was perplexing that when United's play was crying out for an injection of speed up front that of late has only been provided by James Wilson, the status quo remained steadfast. It took until 15 minutes later for Van Gaal to introduce Maroune Fellaini, whereupon United resorted to knocking it long towards the Belgian's head. As a tactic it was uninspiring, but undeniably effective.
West Ham were not severely stretched with enough regularity. Too often this season there have been too many players for United waiting for something to happen, rather than forcing the opposition to react. West Ham took full advantage and their breakthrough was deserved. United paid for not dealing with a floated set piece from the halfway line the first time of asking, and Cheikhou Kouyate showed remarkable poise to juggle the ball, spin and volley past David De Gea from close range. On the balance of play United could have no arguments, but it was a soft goal to concede.
With the exception of the miserable-looking Robin van Persie it was cohesion that the first half lacked from United, rather than industry. Their best spell came in a fifteen minute spell which saw Shaw, Januzaj and Di Maria link well down the left flank, but as has often been the case for United this season, pace and the the killer touch was lacking.
It was an error-strewn first 10 minutes, with both sides guilty of lapses in concentration. Song was lucky not to be punished by van Persie after a suicidal pass across his own penalty area and even David De Gea, who made smart reaction saves with both hands and feet to keep United in the first half, was guilty of a glaring giveaway.
Van Persie may well have been fortunate to escape serious punishment for a flailing arm which caught James Tompkins square in the jaw. When a player checks behind him first, as van Persie did, there is a risk of the elbow appearing deliberate. The Dutchman's unapologetic body language suggested a hint of malice.
United also struggled to deal in the early stages with West Ham's physicality, with Falcao in particular still appearing to struggle with the rough-and-tumble of Premier League football. The Colombian's work-rate and commitment cannot be faulted, but that is not why United brought him in and the reality is that the number of reasons for United to spend £43.5 million on making the Colombian's stay permanent are growing fewer by the week.