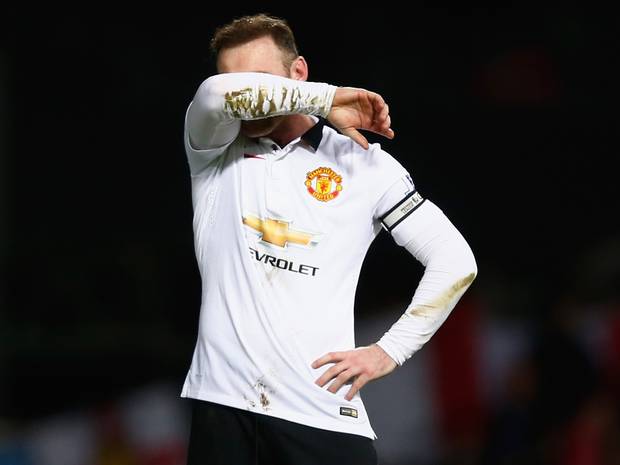 Morning.
Well, that was pretty much an absolute stinker of a performance. It's difficult to know where to start, but at the risk of being overly glum we'll get the positives out of the way first: it was brilliant how when we couldn't figure a way past two makeshift centre-halves we resorted to lumping it up to the big man. I loved that. God bless you, football.
We did well to fight right until the end, but I think we're in danger of falling in love with our own legend, our 'We're United, we always fight to the end and score in the last minute' mentality that has been used in some way to justify the hoofing that occurred in the last ten minutes. Yes, it worked, but that doesn't make it any less discouraging that for 77 minutes we looked yet again like a team who didn't have the faintest idea of how to use bazillions of pounds of talent going forward.
No one is questioning the commitment, a quality which got us the equaliser that was also an extremely adept finish from Blind, but it's difficult to escape the feeling that van Gaal is now jamming square pegs into round holes with such force that his hands are bleeding, the holes are unrecognisable and the pegs are being worn down into nothing. That's clearly quite enough of that metaphor, but it's getting increasingly difficult to defend what clearly isn't working.
What is becoming worrying is the stubbornness of van Gaal to not play players in the positions to which they are best suited. Rooney again struggled through 90 minutes on the right hand side of midfield, reduced to long balls floated into the static van Persie and horrific Falcao. Di Maria also looked extremely uncomfortable playing further forward than Rooney, frequently forcing himself through the middle until he was swamped by claret shirts.
In the end it is the most simple fact which is the most discouraging: a squad with Di Maria, Rooney, Falcao, van Persie, Mata, Herrera and Januzaj at their disposal could not find a way past a Sam Allardyce team without chipping it long to Marouane Fellaini. That is quite clear evidence that whatever the philosophy is, the players cannot adapt to it.
It now feels like a waiting game between who will click first; the players or the manager. The idea that suddenly next week we will start destroying teams as we should seems far-fetched, but compared to the prospect of the manager allowing them to play to their strengths it's a concrete certainty.
Afterwards the manager said:
"I thought that we played a very bad first half; West Ham were much better. They won every second ball and when we had the ball we lost the ball so easily, without great pressure of West Ham. Then my team showed fantastic spirit and also fantastic football. We created a lot of chances, three open chances."
What is a little baffling, other than the second half 'fantastic football' comment, is that talking to Sky (or MOTD, I can't remember) he complained that his team lacked height. That's true, and we were frequently bullied by West Ham from corners as a result. But why, then, does he refer to the 'second ball' in way that suggests an aerial game was part of the plan?
If United lack height as he says, then it seems to me that second balls shouldn't be the issue. With Di Maria and Januzaj alone, we should be running rings around West Ham in midfield along the ground. But we couldn't do that because di Maria and Januzaj looked like players whose hearts were telling them one thing and their minds – or the manager's voice inside their minds – quite another.
Towards the end, someone tweeted: "Di Maria should be where Rooney is, Rooney should be where Falcao is and Falcao should be where Herrera is sitting." That was pretty much bang on. I'm not sure I've ever seen a performance worse than Falcao's with the exception of Ali Dia for Southampton.
You'll remember that Dia famously tricked Graeme Souness into believing he was a footballer and I'm starting to wonder whether Falcao is pulling some kind of similar, far more elaborate stunt. He was constantly, spectacularly, almost mind-bogglingly bad, routinely needing three of four touches to bring the ball under control and stumbling around like a drunk child.
Meanwhile de Gea was our best player yet again, making three or four excellent saves and even appearing visible angry at himself when pushing away a shot that was already going wide. I think pretty much all of those saves should have been made, but our improved defensive record seems to be 99% De Gea considering how skittish Rojo looked for much of the game.
It's hard to know where to go from here, really. There is absolutely no certainty of Champions League football next season if we put in more performances of such glaring stodginess.
That's have to do for this morning. I've bagged a week of work experience at the Times starting today and will be writing from the train as well as reading the sports section each morning to try and get myself in the zone.
Til tomorrow then.