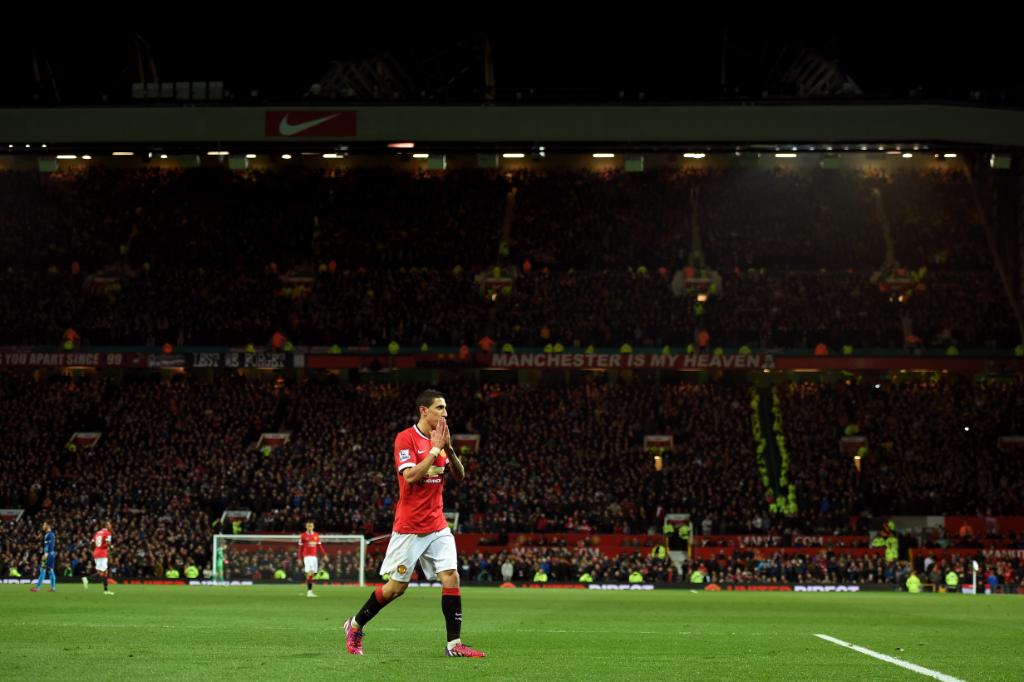 (Disclaimer: I let rip at Di Maria's two bookings this morning and called them a disgrace, and moronic. that was over the top, and these are my more rational and considered thoughts on the man and his predicament). 
Unless you know a footballer personally, or are a journalist who has them or one of their friends or family members as a contact, passing judgement on them either positively or negatively is dangerous. But we all do it. As a fan, though, it's almost a tribal instinct to let hyperbole dominate our judgement of players. Consumed by our righteous fury we boil our criticisms down to the laziest accusations, namely things like "X is awful", "X is a cheat", "X is the worst human being I've ever seen on the face of this earth", etc. That's part of being a football fan, or a sports fan, or a politics fan, or a history fan. People judge people.
In football (or anywhere else for that matter) using these accusations to judge a person's ability is one thing, but using it to judge his character, or even his mindset is quite another. As consumers of the game we are not psychiatrists any more than we are top-level qualified football coaches. But the difference is we know, or think we know, what is happening on the field; we do not know what is going on inside a player's head. Perhaps, nor are we sometimes minded to take a step back and consider what effect a player's personal lives are having on their performances.
Naturally, the continuing struggles of Angel Di Maria are largely analyzed on the basis of two factors: how much United paid for him and how he is managed by Louis van Gaal's system. The first is completely, utterly, totally and fire-and-brimstone-all-consumingly irrelevant. Any relevance it might have, for example in terms of using clumsy metaphors about how the price tag might be weighing heavily around the Argentine's neck, are a direct result of dreadful pundits like Martin Keown/Robbie Savage who trot out the usual 'for £60 million, he's got to do better there for me, Fletch/Clive/Gary/Skybot2.0'. The price tag means nothing except what snarky ex-pros want it to mean.
The second factor is legitimate piece of discussion. Should di Maria be playing on the left? Maybe. Should he be working harder defensively? Probably. Should van Gaal have been quite so quick to criticise him for the sending off? Possibly not. But then we the analysis begins to bleed into an attempt to understand what his going on inside Di Maria's head and that's when things start to get a little complicated.
Again, I don't know Di Maria, because I'm not a journalist with contacts. But those who are, namely this one here, claim one issue is that Di Maria's wife Jorgelina Cardoso (that's her name, by the way; so often wives seem to be just nameless ball-and-chain figures) would like to return to Argentina with their young child. We don't know with 100% certainty whether this true but it is certainly a plausible scenario given that some burglars smashed up the patio doors of their home in front of the whole family. Frankly, if I was Di Maria, I wouldn't fancy going back there. And considering it looks highly likely he never wanted to leave Real Madrid in the first place you could forgive him being pretty miserable.
What he needs now is an arm around his shoulder. Ferguson, despite all the legends of hair-dryers and boot-kicking (he was actually angry for just "probably 0.001%" of his time as manager, according to Gary Neville) was a master at this, protecting his players at all costs and guiding them through difficult periods (Ronaldo, Veron etc). Is Louis van Gaal similarly fatherly? Last month, he suggested as much after hauling off Di Maria at half time at home to Sunderland.
"The difficulty is that the players have to adapt to the Premier League," he said. "I have explained already the rhythm of the game is so high, much higher than in other countries and he has to adapt to the culture so we have to give him time and lift his confidence again, that's also important. He is also a human being like me and you and you can make mistakes but he is a top sportsman. So he shall overcome this period."
Getar Steinsson, who played under van Gaal at AZ Alkmaar, told a reassuring story to the Manchester Evening News back in May. "Van Gaal is not just a manager," he said. "He becomes a father figure for players. He looks after them and looks after the staff. In that way he is just like Sir Alex Ferguson was with a lot of his players. If you are a player who is willing to learn, willing to listen and improve in every way, Louis Van Gaal is the perfect man for that."
Not everyone will agree of course –  former Bayern Munich players Luca Toni and Lucio for two – but if van Gaal does have a softer side, let's hope it'll get put into practice on the Argentine. Because at the moment he looks as if he'd rather be anywhere else.