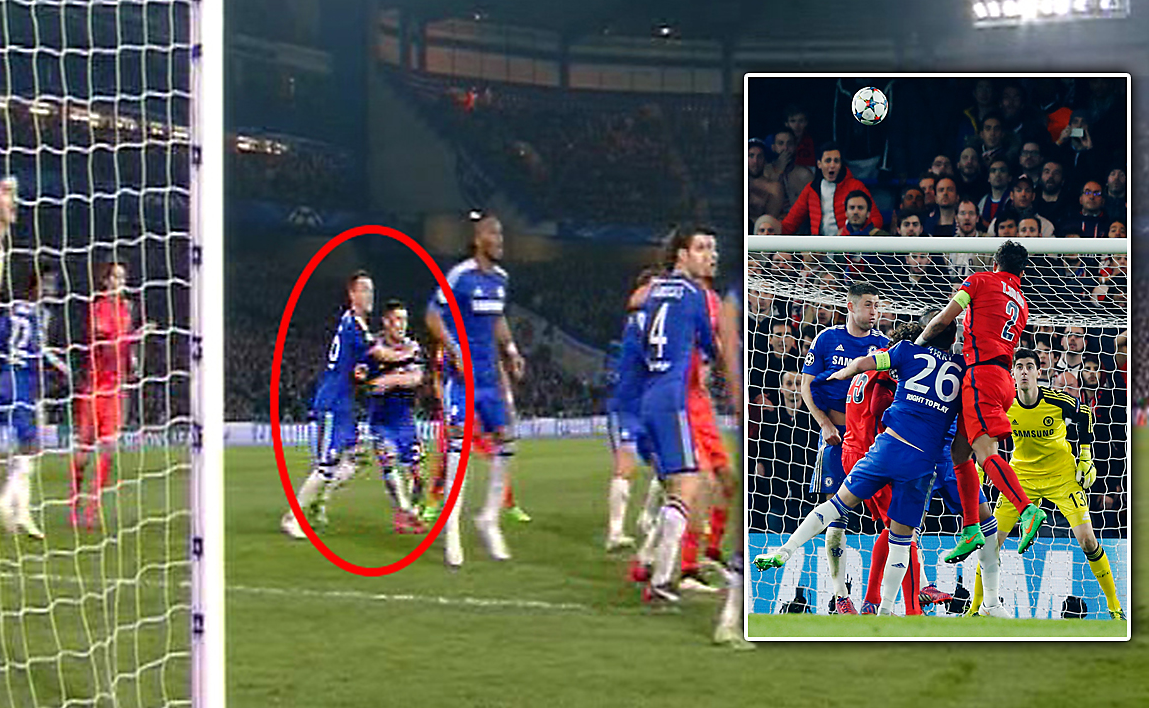 Well that was 'totes hilaire', as the kids might say. When we're losing at home to Arsenal and staring at the very real possibility of no Champions League football next season, watching Chelsea stroll their way out of the competition provided some welcome respite.
It's not often that Chelsea play poorly and Mourinho comes out and lambasts his team afterwards. And make no mistake, it may have been cloaked by calmness and rationality, but those players are going to get pretty well roasted this morning, and quite right too.
They were awful. They really did seem to just assume they were going to win by plodding through the game and stealing a winner, or just letting the result run out. But what they didn't count on is that John Terry is fast becoming an ageing knack-horse and can now neither mark the right team, nor organise his defense as well as he could do before.
That David Luiz header, though. I could watch replays of that graceful salmon all day today; the jump, the use of the next like a spring-loaded something-or-other and the speed at which that ball flew into net was just… art. 
I'm not quite as outraged as everyone else by the surrounding of the referee after the Ibrahimovic tackle. Unfortunately it's what happens these days. Mourinho was playing all nicey-nice afterwards – him and Ibrahimovic are clearly mates – but he's the one who creates that 'campaign' culture at Chelsea that make players do that sort of thing. The funniest part, other than John Terry stepping on Oscar's head, was Diego Costa not having a clue what was happening, and then suddenly realising that everyone was supposed to get involved for maximum impact.
What did wind me up the most, though, was Fabregas. In the crowd of beraters, he was probably the most aggressive, piling in from the left with his arms outstretched in furious indignation. 5 seconds later, as the red card comes out, he was stroking Ibrahimovic on the back of the head. Yeah, nice.
That's the thing, really – it was just pure comedy from beginning to end and just shows that with all the campaigning and arguing and red cards and referee criticisms and muted celebrations and Mourinho-watch and everything else, Chelsea are a flawed team, with an ageing centre-half and a midfield that was bullied by a team with 10 men.
United-wise, there's not a whole lot going on, as tends to happen in the day when we have to press our noses up against the sweet shop window of Champions League football.
World Cup firebrand Memphis Depay favourited a tweet linking him to a move, and with the exception of the slightly old news that Valencia apologised for his Welbeck-assist on Insta-twat and Falcao was a bit miffed about playing for the under-21s – where he was hauled off with twenty minutes to go after blocking two shots from his own players – it's all quiet.
Tomorrow's I'll start looking ahead to Spurs at home, who we face on Sunday afternoon.
Bye!