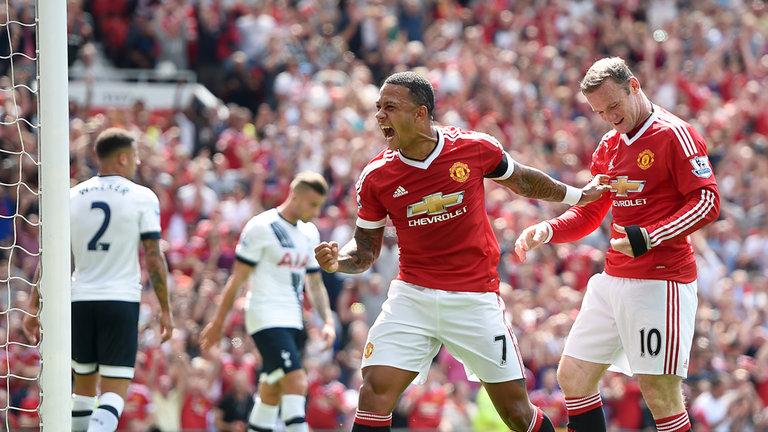 Well, that was somewhat of an anti-climax. Fortunately Tottenham's beyond meek effort in the second half, with the exception of Christian Eriksen's shot in the 88th minute, meant we were able to see out the game. We won't meet many more obliging opponents than that for the rest of the season, though. Except possibly Villa next week.
It feels slightly ludicrous when people cite 'three points' as being the most crucial element of the first game of the season; the reality is this was less about the three points than just not screwing up the first game like we did last season against Swansea when Van Gaal brashly said the team's confidence had been "smashed". As joyless as it sounds after the first game, this was about getting the job done and starting the season with an actual win.
Ponderous was the word the kept popping into my head throughout the game, with every looking like what they were: a group of players who haven't spent a particularly long time playing with each other. It certainly wasn't awful – there were a handful of occasions when it was possible to glimpse the kind of potential that the new attacking unit has – but the fact we could only produce one measly shot on target was a little disappointing.
Memphis Depay did OK, but playing up front behind Rooney was unable produce the speedy, cutting-in attacking threat which made him the Ereva-deva-desie's top scorer last season. Him and Rooney certainly look as if they'll need time to establish themselves as a front pair if van Gaal continues to play him in that position.
It was a game for everyone to pore over Depay and all the new signings and there were plenty on show, with Depay (or 'Memphis' according to the BT Sport commentary – apparently they call players by their first names if that's what's on their shirt. Lucky his name isn't Derek), Darmian, Schneiderlin and Romero all starting. Of those it was Darmian who distinguished himself, with a performance to suggest he'll be well on his way to displacing Antonio Valencia, who you got the feeling often only played because Van Gaal disliked him slightly less than Rafael.
It was a pretty uneventful 90 minutes all in all, which is possibly a blessing as it might discourage the kind of hysterical reactions about how Depay won't be able to cut the rough-and-tumble of English football (have you seen the size of him?) and Romero is an unreliable flap-artist renegade South American (a slightly nervy, but decent first outing).
Afterwards the manager was typically balanced in his praise and scolding:
"It was a very difficult game because it was two teams who wanted to press, so every player was on the ball for a small amount of time. We didn't keep the ball too much but, in transitions, we created a few chances. We could not cope well with their pressure but we had a lot of possibilities. They had the first chance through Christian Eriksen and then it [would become] another game, so we were lucky today."
"Lucky" is a probably a fair assessment in so far as if Spurs hadn't dipped so dramatically in intensity after the goal, especially in the second half, we could have been in real trouble. We were the better team overall, certainly, and Chris Smalling had an excellent game at the back, but he and the squad are going to face far tougher tests than that.
There was another interesting soundbite from Van Gaal after the game, who when questioned about the De Gea situation, replied thusly when normally he would have given the 'it's a process and I'm saying nowt' line:
"He has been our best player for two years chosen by the fans so we cannot let him go easily. We have to pay a lot of money for all the players we want and we want to sell at the same level. We want to keep him, of course. As a keeper, you need the highest concentration for 90 minutes and it's difficult for David to do that in his current situation. We saw that in the tour matches. When the situation is cleared after 1 September, we'll look again." 
It basically confirms what we expected to be the case: that the two clubs are haggling over a fee. De Gea, as far as I can see it, has behaved with the utmost class for throughout the whole saga and his dodgy performances during the tour will simply be because has probably spent much of his time sat by the phone, waiting to be told he can go and play for a club where he'll be treated like dirt and whistled at for no good reason live with his girlfriend.
Right, that's about it. Aston Villa will be up next and then there will also be Club Brugge to look forward to for the Champions League qualifier. Thank God we didn't get Monaco, because that would been a toughy.
To conclude, and in honour of our next Premier League fixture, here's Tim Sherwood opening a door in the "most Tim Sherwood way possible", © Twitter, followed by my current favourite song and devastating earworm. 'Til next time.