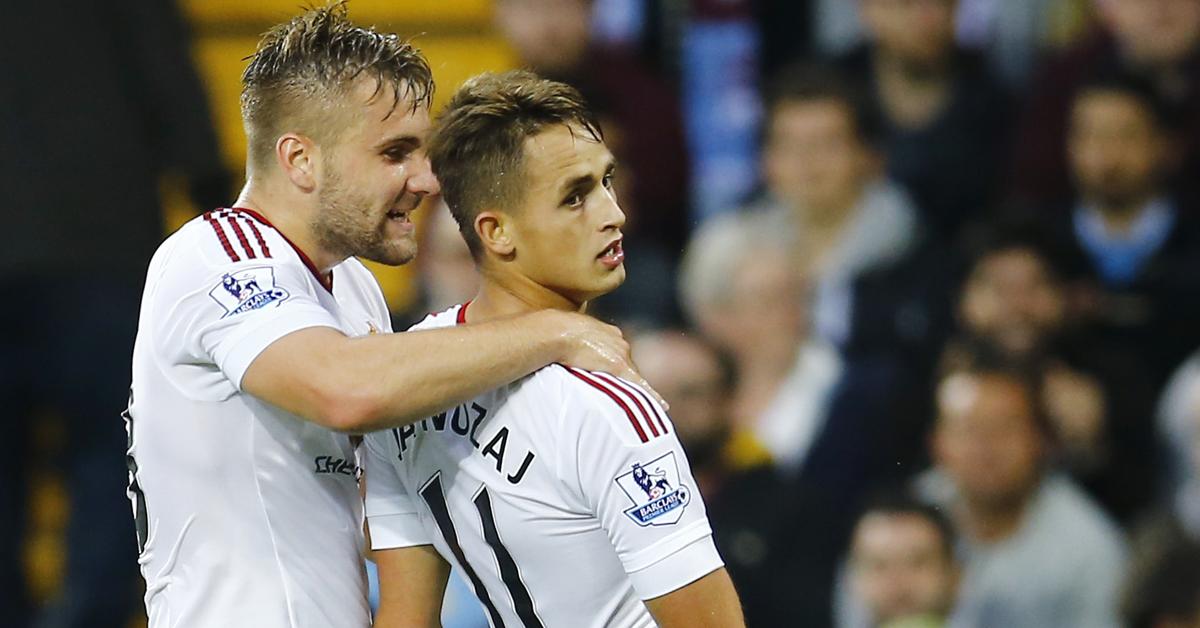 Aston Villa 0-1 Manchester United
Januzaj 30
Aston Villa's record against Manchester United at Villa Park is so atrocious that one might have forgiven their fans for staying away through a sense of inevitability. In the event Villa supporters, either those who were delayed by an accident on the M6 or those that were lucky enough to arrive on time, witnessed a defeat which they may well feel they could have prevented. It is now 20 years and counting since they have beaten United on their own turf. United, meanwhile, will see it as a job done, but not without some significant creases to iron out.
Adnan Januzaj's well-taken finish from close range after half an hour saw them through but United were fortunate that Villa were so accommodating at times. On this evidence Van Gaal's side are well short of the killer instinct that they will need if they can seriously consider themselves title contenders; Chelsea and Manchester City in particular will not be nearly as welcoming. United gave the ball away on so many occasions, whether from lingering on the ball or simply passing it to a claret and blue shirt, it was almost hard to believe.
The initial surprise – a pleasant one for those missing the traditional pace of United's attacking play – was the starting berth handed to Januzaj, brought in to occupy the the no.10 spot previously taken by Memphis Depay, who started on the left hand side. Januzaj was bright and energetic from the start, clearly desperate to repay on Van Gaal's faith.
And repay him he did he did after half an hour, the young Belgian starting and finish United's best attack of the game. Driving at the Villa defence from midfield with a pace so often been missing from Van Gaal's United, the ball found its way to Mata on the left hand side. The Spaniard's quick pass into feet found the darting Januzaj on the corner of the six yard box, where a curled shot reached the bottom corner of Brad Guzan's net via a deflection. It was no more than Januzaj deserved for his excellent start and a wonderful moment for a player who as recently as this week was linked with a loan move away from Old Trafford.
United initially struggled to cope with Villa's energetic pressing, with passes frequently over-hit and players dawdling on the ball. The home side's intensity, though, dipped noticeably as the first half went on, with United finding more and more space around the penalty area. Organisation at set pieces was iffy – as captain, Micah Richards will need to work on his leadership when it comes to Villa's defensive structure.
Januzaj's goal was effectively the only highlight of a first half that again saw United struggle to move out of 2nd gear. It should not escape Van Gaal that the goal came on the only occasion when United elected to attack Villa through the middle with pace, rather than slowly spread the ball from left to right. United had too much superiority of quality to allow Villa off the hook to the extent they did in the first half. Had Mike Dean decided to award Richards a penalty for a clear headlock applied by Matteo Darmian at Villa corner, United may well have been punished for their complacency.
Depay, moved to the left flank from where he did so much damage for PSV Eindhoven, was quiet in the first half, though not through lack of trying. Smart runs off the shoulder of his markers were followed by mishit passes from his teammates, and the bug seemed to infect the Dutchman whose own passing became wayward. A wild 70th minute free kick may well still be soaring though the dark Midland skies and shortly afterwards the young man had a golden chance settle his side's nerves. Put clean through by Mata, Depay's finish drifted inches wide across Brad Guzan. To his credit Depay battled to influence the game until his withdrawal with ten minutes to play, but he will not remember his second game for his new club with much fondness.
United largely dominated possession but however much time they were allowed on the ball, they seemed to want more. Just before the hour it was Januzaj caught dawdling in possession and only the quick wits of Luke Shaw prevented the home side from capitalising. The second half was littered with moments like this from United and Van Gaal is likely to be deeply unimpressed by United's sloppiness on the ball. Wayne Rooney meanwhile was terribly poor and on this showing, if he is not stolen by Manchester City, they cannot welcome Pedro soon enough.