Inexperience of adversity as a manager and the wrong club were Gary Neville's downfall. He should restart from the ground up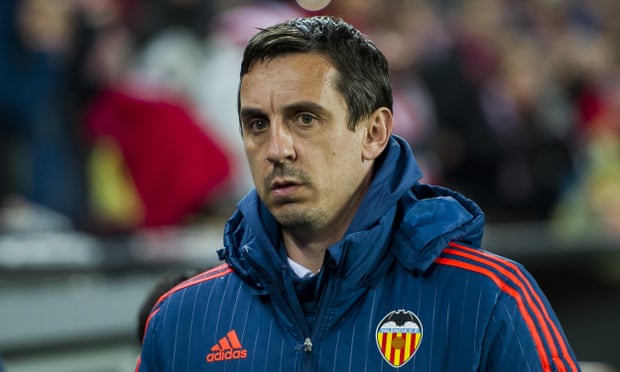 No one can do haunting physical transformations quite like embattled football managers. Christian Gross descended from suave tube-tourist to vein-popping prop forward at Tottenham Hotspur in the space of nine months. On the other hand Paul Lambert looks as if he's lost ten kilos and ten years after being sacked by Aston Villa and finding success at Blackburn Rovers. Gary Neville, whose demise at Valencia has been difficult to watch, has looked of late that he hasn't slept a wink. "I won't sleep well tonight," he said after the 7-0 loss to Barcelona last month. Only a pathological cynic could doubt his honesty, having seen the bags under his eyes.
But as Neville admitted today after he was sacked by Valencia, it is a results business and it is results, not his admirable forthrightness or determination that have been dreadful. After four months and 16 league games Neville won only three – including the defeat at the Nou Camp which the club's sporting director Suso Garcia Pitarch called "one of the worst in our history" – as Valencia were eliminated from both the Champions League and the Europa League. Like the man himself, Neville's statement was matter-of-fact. "I would like to thank Valencia Football Club, the fans, staff and the players," he said. "I would have liked to have continued the work I started but understand that we are in a results business and in the 28 games they have not been to my standards or to those which are required by this club."
In retrospect, it might be considered that neither Neville nor chairman Peter Lim made an astute decision in the first place. Valencia, a club boasting some of La Liga's most vocal and demanding fans, have been in turmoil for too long and now remain so. Lim may well have been of the view that a serious shakeup was needed, a firecracker for demoralised players. But when an experienced head and expert communicator might have been a shrewder decision to steady the ship, the boss's friend, a rookie leader with expertise in playing, punditry and ownership – but not management – with little to no Spanish was brought in. In the end it was Neville's fierce ambition and desire to challenge himself that probably convinced him to take the job. But it is not difficult to see the mountain that Neville probably had to climb when it came to getting the players onside.
Nevertheless, whilst it is primarily the manager's job to motivate his players Neville might privately argue that he has, to some extent, been let down by his squad who on occasions seemed disinterested. Arsene Wenger, no stranger to pressure himself this season, put it rather succinctly when talking about Neville's predicament after the Barcelona defeat. "Experience plays a big part when you don't start well," he said. "When you have a difficult start you have no credibility through your history because you haven't shown you can do it. So it becomes more difficult when you have a bad start. At some stage, if you have a good team, they always find their way. I think Valencia will get out of it." Pep Guardiola may be a straight-to-the-top manager as well, but has consistently worked with top-level players. Neville was not so lucky.
What Neville surely needs now is patience, a virtue that he did not exercise when taking such a pressure-cooker of a job for his first managerial role. There will need to be a period of wound-licking and some serious sleep. But Neville, a man who has so far been a player, pundit, columnist, coach, owner, hotelier and head coach, might be wise to allow himself the opportunity to narrow his focus if he wants to succeed at the latter. It was astounding, for example, that he chose to continue his England coaching role after taking over in Spain. A League One or Two club would show he has learned his lesson and is willing to learn from what just about passes as the ground up, but he may be tempted by the Championship. One thing is almost for certain: Mestalla will not be his managerial graveyard.