Oxford United 3    Sercombe 45′ (pen) Roofe 49′, 59′
Swansea City 2     Montero 23′ Gomis 66′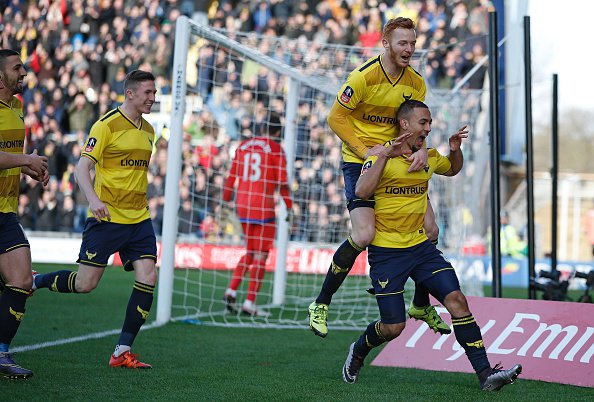 Oxford United's Kassam Stadium cannot boast a fourth stand, let alone a roof. But any covering the ground might have been blown off at the final whistle anyway. "You're going down with the Villa," sung some mischievous Oxford fans early on. That remains to be seen but Swansea City now have no choice but to focus their efforts on surviving relegation to the Championship. Meanwhile Oxford, who will look harness the momentum of this victory for a promotion push into League One, were for the most part better, faster and stronger than their Premier League opponents and fully deserve their place in the 4th round.
Kemar Roofe's second goal four minutes after the restart, a goal which would prove to be the home side's winner, was worthy of the Premier League: a sumptuous, curling right foot effort from the edge of the penalty area that sailed past Lucius Fabianski. Ten minutes later as Swansea over-committed forward, Roofe finished off a lightning counter attack, his shot deflecting off the diving Fabianski and looping into the net to make it 3-1.
At that point Swansea looked beaten. Even with half an hour to play Gomis's neat finish from six yards after being put through by Jack Cork failed to rally enough of a coordinated surge from the visitors. And even when under pressure Oxford refused to play the long ball, holding possession deep into Swansea territory. "I think a few people fancied us beforehand and I did too but we also wanted to play the same way we've been doing it all season and play with no fear," said Oxford manager Michael Appleton. "We need more days and nights like this."
Appleton's side have made a name for themselves by playing quick, artful football, keeping the ball firmly on the ground using pace and width to stretch their opponents. This afternoon was no exception. From the first minute to the last the ball was rarely hit long. Instead Oxford relied on the invention of John Lundstram in midfield, the pace and confidence of Roofe and the tireless running and trickery of fullback Geoge Baldock. Swansea interim manager Alan Curtis admitted his side could not cope and their journey home would have been even longer for Jonjo Shelvey, who at the final whistle appeared to gesture to an angry visiting fan to meet him the car park to discuss any grievances.
"His performance was a bit like the team, he started poorly and got better," said a visibly disappointed Curtis after the game. The reality is that Shelvey and his side had started fairly brightly. With he, Jefferson Montero and Bafetimbi Gomis all starting, Swansea should have had a greater degree of control after Montero's opener. It was the visitors' best move of the game by far, started and finished by the Ecuadorian. Cutting in from the left touchline, a perfectly executed, flicked one-two with Gomes was rounded off by a delicate finish. It was a moment of Premier League quality, but the kind of which was all-too-rarely seen from the visitors thereafter.
Oxford's response was to be patient and continue playing the style of football which has given them a deserved reputation as one of the Football League's most appealing sides. The equaliser, though, was a controversial one. Kyle Bartley's lunging challenge on Alex McDonald lacked serious contact other than the Bartley's flailing arm catching McDonald's legs, but it was rash. The penalty was driven home by Liam Sercombe.
The final quarter of the game rather summed up the tie as the home side pinned Swansea in their own end with quick, incisive passing. It was a remarkably assured performance from a League Two side high in confidence against a disorganised and tentative one from a Premier League side bereft of it. Swansea will now have to count their blessings that there are no distractions standing in the way of their fifth season in the top flight. For Oxford, if they can continue in this vein, there are surely more promising times ahead.